Disclaimer: Ramparts360 is not responsible for any lowering of the IQ which may result from reading the following. Users are cautioned to proceed at their own risk. It is also advised that you do not eat or drink while reading as damage to your monitor may ensue.
~~~~~~~~~~~~~~~~~~~~~~~~~~~~~~~~~

Okay, Patriots. I've been hanging on to this one, and I think it's time.
Taking a page from Saul Alinsky's "Rules for Radicals", we know that ridicule and political parody are first choice weapons to distract the public and emasculate the opposition, particularly when they're beginning to make sense to anyone with a brain. With that in mind I hope you enjoy this fair use political parody designed to educate our liberal friends. Please wake up and smell the coffee.
– Poor Richard
'LIFE IMITATING ART' PRESENTS: "OBAMARAMA"
- a fictional political parody and movie idea STARRING your favorite Washington politicians as Matt Groening's beloved characters.
President Barack Hussein Obama as "Phillip J. Fry" — too young and inexperienced to be taken seriously, never holding any steady job very long, and never anything more serious than pizza delivery boy, Fry (who's parents were children of the '60s) was clearly born to live in the "Me generation" of the 1980′s. However, he is accidentally (he believes) teleported into the future where he is utterly out of his element and unprepared for the new world. Lonely, hugely incompetent, and far too naive to know it, but game to try anything, Fry is assigned by local government bureaucrats to do the job best matching his imagined talents — a delivery boy.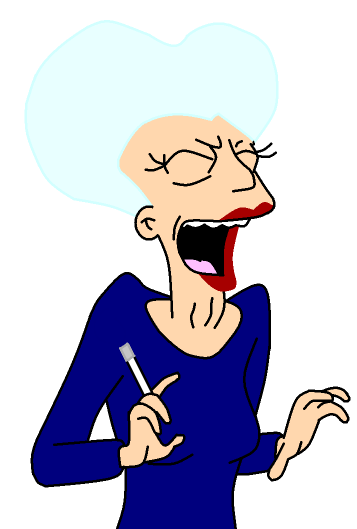 Rep. Nancy Pelosi (D-SF, CA) as the utterly corrupt and evil power-hungy "Mom" of Momcorp., the most powerful mega-corporation on the planet — Mom married into money and likes to abuse the help. "Mom" has turned her lust for power into a global moneymaking empire. She's best known for her great talent for obtaining power by greed, deception, or any other means necessary to get what she wants. Her most famous line was telling one of her inept cronies to hit the retaliate button on her office control panel. When asked which of the many button he should push, she replied, "ANY button, you idiot! They ALL retaliate!"
Senator Harry Reid (D-NV) as "Bender Bending Rodriguez" (a girder bending robot) – Proud of his natural ability to steal, Bender continues to do so regularly, simply because he can. Bender's favorite person is… Bender. Benders's second favorite person is… Bender. But he lets Fry live in his closet anyway. He relishes being caught because it also give him a chance to polish up his other favorite natural ability… lying. Irreverent, highly independent, and strong willed enough to bend even the "unbendable" girder, Bender's favorite mantra is the one he repeats every night before powering down… "Kill all humans. Kill all humans."
Senator Ben Nelson (D-NE) as "Nibbler" – Leela's cute and cuddly alien pet. He he has a voracious appetite to consume everything, and is renowned throughout the universe as a famous pooper. Nibbler plays the "pet" role but is much smarter than he looks. "I can do more than talk. I can pontificate." Yet Nibbler still makes incredible mistakes that often jeopardize the very existence of space-time. His race's goal is now simply to save the universe from the Brain Balls who seek to control the universe. Because Fry is from the past, Nibbler believes him to be the only person in the universe who is immune to the Big Brain's thought control because he lacks certain brain matter that everyone else has. Fry thus becomes the last possible savior of the universe. Nibbler means well. His ultimate goal to save the universe simply leaves him no other choice. Unknown to Fry, it was Nibbler who actually went back to the past and purposefully pushed Fry into the cryofreeze chamber propelling him into the future so he can save the world… all without giving Fry a choice in the matter.
Senator Mary Landrieu (D-LA) as "Amy Wong", a part-time student at Mars University who just happens to have the same blood type as Professor Farnsworth, her employer. Amy is a party girl and daughter of the richest Chinese couple on Mars who just happen to own it's entire Western hemisphere. Her parents greatest wish is to see their daughter married and have grandchildren, so they encourage Amy's natural sense of irresponsibility and promiscuity. Her parents spoiled her by constantly giving her money so she naturally has no idea what things actually cost. She likes to brag about her latest acquisitions and how much money she just got from her parents. She often swears in Cantonese. Above all, Amy just wants to have fun. Oh, and don't make her think too hard…and stuff.
Rep. Barney Frank (D-MA) as the Giant Slurm Worm. Slurm, easily the most popular beverage in the universe and fronted by nonstop party pitchworm, "Slurms McKenzie", this ultra-tasty green drink is made at a super secret facility where, unknown to the general public, lots of hanky panky is going on. The universe's biggest bait-and-switch fraud happens here on a daily basis, where millions of cans of fake product get swapped during shipment with the real Slurm, a disgusting ejection of Giant Worm Slime that just happens to taste great to anyone who drinks it, including Fry. That is — as long as they don't know the truth about where it comes from. Even after Leela and Fry discover the disgusting truth about Slurm, Fry continues to "drink the Slurm" out of habit (it's too hard to quit), and because he just plain likes it.
Michael Mann as Prof. Hubert J. Farnsworth – an incredibly ancient and sometimes senile inventor, he regularly creates the most unusual, seemingly useless, and/or unbelievably destructive inventions, including things such as the "what-if machine", "death clock", "killbots", and "doomsday device". Prof. Farnsworth has on more than one occasion, simultaneously caused and solved a number of universe-ending paradoxes. Known for his snappy witticisms including his favorite, "Good news, everyone!" regardless of the circumstances or imperilment to the Planet Express ship crew (or for that matter, everyone on Earth).
A deeply and secularly religious man, Professor Farnsworth has been know to exclaim, "Sweet Zombie Jesus!" when excited. Professor Farnsworth has become quite wealthy and he happens to own Planet Express, the interplanetary delivery service that employs Fry and the rest of the crew….formed as a tax dodge.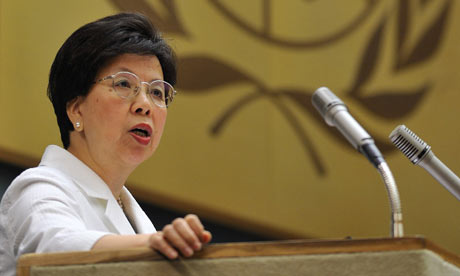 Margaret Chan Fung Fu-chun, OBE, JE, Director-General of the World Health Organization as Dr. John A. Zoidberg — "Look who's here, everyone! It's Zoidberg, the lovable tramp! " Dr. Zoidberg holds a fake medical degree, as well as degrees in murderology and murderonomy. A composite of numerous sea creatures, Zoidberg's features have been myriad. His known attributes include a removable exoskeleton, a retractable head fin that indicates arousal or aggression, an ink gland, a "stink gland", a gland that emits foul odors when he's bored, an empathy bladder, a freshwater stomach, a saltwater stomach, four hearts, a throat that apparently produces psychedelic blue pearls, and a "wazoo". It has been revealed that passing on genetic material is a life terminating event for these lobster people. He is extremely poor and has stated several times that he has no home. He usually eats from the trash or a dumpster and is envious of even the smallest amounts of money. He is excitable about his friends and is very trusting with the crew, who are naturally repelled by Zoidberg for no apparent reason.
Eric Holder, Attorney General of the United States as Hermes Conrad, Accountant / Bureaucrat / Filer / Limbo Champ. Hermes is an ex-limbo Olympian from Jamaica and was assigned as Planet Express' accountant. Born with a natural love of bureaucracy, his specialty is filing. He is extremely proud to be a bureaucrat and even once sorted the Bureaucracy's master in-pile in less than 4 minutes to rescue Bender's lost mind chip. Hermes' even organized Spa 5, a forced labor camp on the edge of space where happy vacationers are treated to the best prison surroundings in the universe . He was once accidentally beheaded by Bender, and had his head temporarily kept in a jar of water until his body could be cloned. Unfortunately, his cloned body didn't survive. So like any good bureaucrat, he invented a complicated story line to go back in time so he could paradoxically be reunited with his dead body before it died, nary missing a limbo beat.
Rahm Emmanuel, White House Chief of Staff as the Evil X-mas Santa Bot. Not much is known about the murdering evil Santa Bot. He just showed up one day. Now everyone is afraid, and no one says "Merry Christmas" anymore.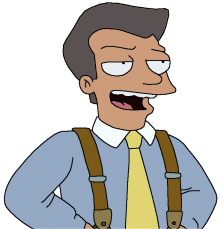 Timothy F. Geithner, U.S. Treasury Secretary as "That Guy" – a hip '80s corporate raider with a deadly disease called "Boneitis" that caused him to (unlike Fry) have himself intentionally cryogenically frozen until a cure could be found. 'That Guy' temporarily takes over Planet Express when Fry convinces the shareholders "He knows about business and stuff". 'That Guy' then naturally does what he always does… spends lavishly on himself, promoting company image over substance, and simultaneously drives down the cost of Planet Express shares while secretly maneuvering to take over the company and sell it to Momcorp, making himself a nice profit while destroying Planet Express as everyone knows it. Just as the sale is about to made, 'That Guy's' boneitis kicks in and his shares revert to Fry. Fry, of course, managest to screw things up further by making the speech of a lifetime. He espouses how much he cares for everyone at Planet Express, and drives their artificially inflated and vastly overvalued shares down to nothing. Nothing has really changed. Planet Express still can't compete with Momcorp, , 'That Guy' is dead, nobody at the company got rich, and now everyone hates Fry.
Vice-President Joe Biden as Captain Zapp Brannigan, hero-adventurer (well, at least in his own mind). Well known for his imaginative and violent exploits against unarmed civilizations, Zapp is regularly promoted and demoted, but always seems to land on his feet in spite of himself. His self-infatuation and insecurity is surpassed only by his incredible ability to screw up on an interplanetary scale, but still look good doing it. His massive ego needs constant stroking from his first mate, Kif, who is too frightened to actually stand up for himself, and so is humiliatingly reduced to picking up Zapp's toenail clippings. Zapp sees everything as sexual innuendo, sexually related, and sexual opportunity. (John Edwards was first choice for this role but he turned it down for 'family reasons'). Zapp confesses that his preoccupation as sex is his way of compensating for his massive lack of talent. It also serves as a great diversion to those who don't know him well. "Leela, you're obviously confused… and aroused."
The Democratic Party as Lieutenant Kif Kroker — Kif Kroker is an amphibian alien of light green color from Amphibios 9 and is basically Zapp Brannigan's gopher. Though he constantly complains and bemoans his station in life, he is often timid, quiet and painfully shy around almost everyone, except Fry to whom he is loud, noisy and rude. Kif doesn't have a supporting skeleton with bones. Rather, he's held up by a system of fluid-filled bladders. He also has a camouflage reflex that allows him to unconsciously blend into his surroundings when he is surprised, and can walk on walls and ceilings. He sheds his skin periodically, but always looks the same afterwards.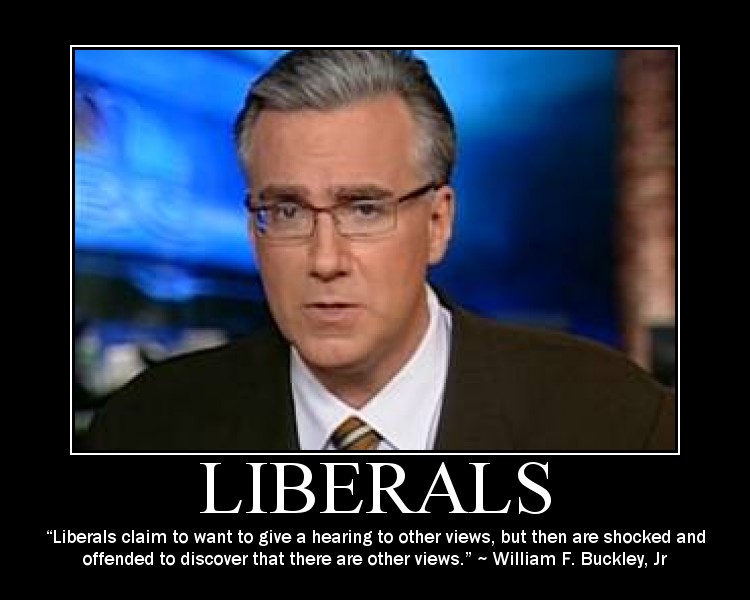 The American Liberal and the Main Stream Media and Alien Brain Slugs — I really just can't improve on that.
Capitol Hill, home of the United States Congress, Washington, DC as Planet Express Headquarters, New New York, Earth.
Rep. Michelle Bachman (R-MN) as Turanga Leela, captain of the Planet Express delivery ship. "Look, I don't know about your previous captains, but I intend to do as little dying as possible." With a "not rain nor sleet" attitude and a kick-your-ass grace, the big-booted eyeball of this delivery company is the only wellspring of professionalism to counterpoint the rest of the crew. For better or for worse, the ship runs on her high octane passions, be they her yearning for family, her love of violence, her commitment to a job well done, or her affection for animals. She has been known to scrap missions on a whim at the promise of learning more of her past, jeopardize the crew's life to spite Zapp Brannigan and save Nibbler.
The American Patriot a/k/a We the People (March on Washington, 9/12/09) and many more who've joined before and since.
Played by basically every superhero you've ever heard of, read about, thought about, created yourself, or seen as a kid.
Heroes are ordinary people who do great things under extraordinary circumstances. Pick your own role people, you've earned it.
And God Bless America. See you. 9/12/10.
-*-*-
Thanks for visting Ramparts360. You can also